ELECTRONIC SHELF LABELS
Retail chain stores nowadays can put more resources on sales and marketing is that they have equipped with ESLs and integrated the smart labels and IoT technology with their own systems.
It is in seconds, all the labels are updated with the latest data from head office with no failure; in weeks, all the stores have saved a lot of working time and cost; in months, all the extra margins are secured by the whole new solution and higher customer satisfaction from shelves.
The Hussmann ESL and vusion rails bridge the gaps of challenges for in-store management and are the milestone for New Retail and other areas such as pharmacy.
ESL starts a happy journey for customers who want to be more engaged in the shopping environment and benefited from deeper interactions with stores.
Hussmann Australia and SES-imagotag signed a distribution agreement to launch an IOT platform for retailers in Australia. The partnership focuses on enabling Australian food retailers to create ultra-efficient, data-driven connected stores, and further shopper engagement to better meet modern consumer expectations.
Physical retailers, under pressure from rising costs and shifting consumer behavior, need to reinvent the in-store experience to improve operational agility and shopper engagement. Today's shopper expects a seamless shopping experience across e-commerce and physical stores. As such, a digital platform that supports data-driven operational agility and omnichannel shopping experiences, such as dynamic pricing and click-and-collect, is now a top priority for retailers.
Individually, Hussmann Australia and SES-imagotag already have significant traction on the physical retail market. Hussmann Australia is a trusted premier provider of industrial refrigeration and cold-chain solutions to Australian food retailers. SES-imagotag is the global leader of in-store digital IoT platforms including digital shelf labels, wireless in-store infrastructure, and cloud-based software solutions. Both companies endeavor to accelerate the transition to an omnichannel, data-driven store of tomorrow for Australian food retailers.

GROCERY

PHARMACY

FRUITS &
 VEGETABLES

ELECTRONICS

COSMETICS

FASHION
INDUSTRIAL

DIY

Smart Labels are now becoming the portal to an ever-increasing portfolio of cloud-based applications focused on store automation, shopper engagement and data analytics:
Video Automation
Shelf monitoring & Stock-out detection
Product Geolocation
Real time Plannogram & Management
Picking & Replenishment
 Optimisation
Price Automation & 
Analytics Intelligence
Shopper Connectivity
Digital Advertising
Display promos & discounts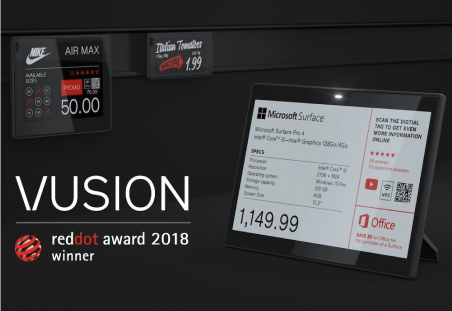 PRODUCT FEATURES
The current line-up goes from 1.6 to 12.2 inches, with displays in black, white, red or black, white, yellow. Proven sales booster and essential part of the efficient and connected store, VUSION Labels have unique and key features to digitalize physical retail:
High resolution color e-Paper displays
Easylock Antitheft Protection System
Active NFC
Instant LED Flashing (7 colors)
IoT ultra-low-power communications infrastructure (7+ year battery lifetime)
Instant data transfer
Super-wide viewing angle (near 180°)
VUSION Labels' components come from highly reliable and market-leading vendors, ensuring the highest ESL quality in the industry (100% inline test success).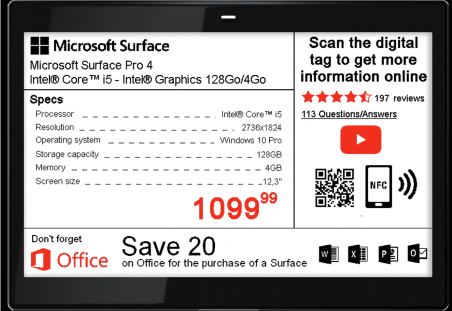 Instant LED Flashing
Ultra-large viewing angle, 7 colors. Setting new standards in Electronic Shelf Label solutions.
IoT Protocol
VUSION Tags are connected to the VUSION IoT Protocol ensuring perfect connectivity in-store between the retailer, the brands and the shoppers.
Dual Frequency
Choose the frequency that best fits your needs. Two different radio frequencies, 2.4 GHz and SubONE, which offer different functionalities for the VUSION ESLs.
VUSION design
Thinner than any tag before, it adds a modern touch to every retailer's store. Plus, adapt the templates to the stores guidelines as much as needed.
NFC/QR
All our ESL tags are equipped with our Patented NFC Technology as well as the ability to display working QR codes to bring your website into your store.
All terrain labels
Waterproof and dustproof, our electronic price tags are reliable in every situation. Even in temperatures dropping to -25°C with special freezer labels.
Easylock
Anti-Theft and Anti-Fall system to guarantee all electronic price labels positioning in-store and merchandising compliance No mechanical stress on digital price tags and fits with all the previous fixings.
Display
The best ESL displays on the market thanks to 10 years e-Paper experience with the integration of Pervasive Displays.